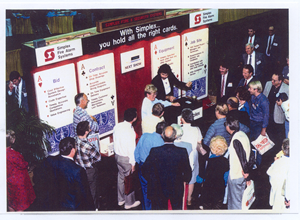 Steve draws huge crowds on the trade show floor
Next Class begins: Start Anytime. Classes are ongoing at your own pace.
Skill Level: For intermediate and advanced level performers.
Call or email to enroll.
FOR ENROLLMENT INFORMATION, CLICK HERE, OR CALL (702) 253-9392
Description: The fine art of trade show booth performance.
A select number of magicians earn their living performing magic in the trade show booth during a convention. This form of magic is part magic performance and part carnival pitch. A great magic performance does not always work in this situation, and Steve shows you why.
A veteran of trade show booth magic since 1975, Steve has faced every conceivable challenge in his long career in this unique field. He is considered to be one of the top handful of performers, earning huge fees in excess of $5,000 a day for many clients who have been contracting Steve for over a decade.
Among the topics covered:
Writing the "pitch"
The key elements of a successful trade show booth act
Sample scripts
Anatomy of a deal - from concept, to contract, to execution and beyond.
How to market yourself in this field
Secrets to creating the perfect product-oriented script and act
Show formats, frequency and length that works best
In some lessons, Steve teaches a great routine, with all the performance tips and key patter, designed for maximum effectiveness in the trade show booth situation.
"As a part time magician, I have made a respectable amount of money to supplement my income. After Steve's mentor program, I have been able to solicit, and book, several trade shows, each of which paid me well over $2,000. I am now looking into early retirement from my administrative job. Thank you for sharing your valuable experience." - P. Thomas, Cleveland, OH
Says Steve, "This is one of the most financially rewarding area of magic, and for the entertainer who plans and prepares himself and his act, this can change your life. I have isolated the key components that one must master and put into practice, and if you follow my advice and guidelines, you will be able to command over $1,000 a day for performing a blend of close-up and platform (small stage) magic."
CLASS FORMAT: 6 Lessons are sent via email (and also available online) during a 6 week period.
Special Offer: At the conclusion, students are invited to send in a video tape for a free evaluation and personal coaching session with Steve (a $100 value). Steve watches and critiques your performance, then tapes a personal coaching session for you, and returns the tape to you.
Price includes a free 6 month email consultation plan (a $100 value alone) which allows unlimited email consultation (on the business and performance aspects of these venues) with Steve after completing the course.
Trade Show Booth Magic Secrets - Price: $250.
Special Sale Price Until April 1, 2011 - $150. (save $100) - Purchase Now
Video Evaluation Option: Free with this course (for a limited time only)
Many of the courses include a Video Evaluation option. This invaluable tool is work more than the price of any of these courses. To participate, the student sends a video of his (or her) act, or a portion of the act (up to 6 minutes). Steve views it and tapes a personal, comprehensive commentary which offers coaching advice for enhancing your presentation.