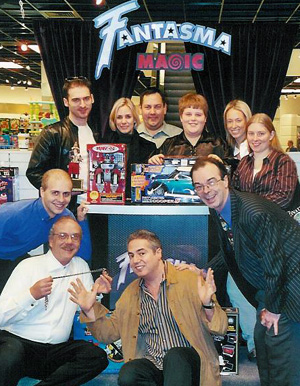 Magic for Grandparents contains secrets from some of the
finest entertainers and inventors in magic...
Next Class begins: Start Anytime. Classes are ongoing at your own pace.
Skill Level: For all skill levels, with one or more grandchildren.
Call or email to enroll.
FOR ENROLLMENT INFORMATION, CLICK HERE, OR CALL (702) 253-9392
Description: Anyone with grandchildren knows the value of a well-produced coin from the ear. But what's next? How do you follow up? And gain the respect and admiration of the children and their parents?
Steve teaches a few great routines that are highly effective for almost any situation.
The focus is on grandchildren as your audience, but these routines will work for many other groups, too. If you wish to perform magic for your friends, during a dinner, at a party for family members, on a date, whatever, this course is for you.
Grandchildren represent a special challenge in that they return, again and again, and demand new magic tricks each time, so you have to be ready for those "repeat performances" that are often risky. (One of the rules of magic is, of course, never perform the same trick twice.)
Steve reveals his long-guarded secrets for entertaining family and friends. There are some key things to know, or else there is the danger that you will fail.
Says Steve, "Over the years, I have had many students who wanted to be able to entertain their family - grandchildren, mostly, and who have had bad experiences already. They related stories to me, that began with 'I went to the local magic shop, bought some cool things, then when I showed them to the kids, they were'n't fooled at all.' It backfired on them. With my instruction, most of them overame their initial failures and redeemed themselves with some eye-popping magic that the kids lovede. That is my purpose with this course."
FInally, Steve teaches ten great routines, none that require a great deal of skill, and several that can be performed with a week's practice.
CLASS FORMAT: 4 Lessons are sent via email (and also available online) during a 5 week period.
Special Offer: At the conclusion, students are invited to send in a video tape for a free evaluation and personal coaching session with Steve (a $100 value). Steve watches and critiques your performance, then tapes a personal coaching session for you, and returns the tape to you.
Price includes a free 6 month email consultation plan (a $100 value alone) which allows unlimited email consultation (on the business and performance aspects of these venues) with Steve after completing the course.
Magic for Grandparents - Price: $299.
Special Sale Price Until Feb 14, 2009 - $199. (save $100) - Purchase Now
Video Evaluation Option: Free with this course (for a limited time only)
Many of the courses include a Video Evaluation option. This invaluable tool is work more than the price of any of these courses. To participate, the student sends a video of his (or her) act, or a portion of the act (up to 6 minutes). Steve views it and tapes a personal, comprehensive commentary which offers coaching advice for enhancing your presentation.