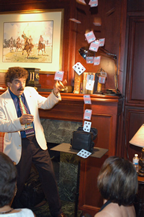 Steve performs in an upscale cigar lounge/store.
Next Class begins: Start Anytime. Classes are ongoing at your own pace.
Skill Level: For all skill levels, with emphasis on working profesionals, both full or part-timers.
Call or email to enroll.
FOR ENROLLMENT INFORMATION, CLICK HERE, OR CALL (702) 253-9392
Description: Many stores, such as toy store, department stores and even car dealers employ gimmicks to get people to visit their establishments. Magic is the ideal graw for this, as magic is appealing to all ages, thereby making it a perfect draw for families.
Steve takes the guesswork out of this little-known but highly profitable market.
He shows you how to get the gigs, what to do when you get them, how to publicize them, and how to guarantee a repeat booking every single time.
He reveals who to talk to, what to say, how to structure the fee and contract, and provides you with many routines and options for performing a visual, attention-getting act.
CLASS FORMAT: 4 Lessons are sent via email (and also available online) during a 5 week period.
Special Offer: At the conclusion, students are invited to send in a video tape for a free evaluation and personal coaching session with Steve (a $100 value). Steve watches and critiques your performance, then tapes a personal coaching session for you, and returns the tape to you.
Price includes a free 6 month email consultation plan (a $100 value alone) which allows unlimited email consultation (on the business and performance aspects of these venues) with Steve after completing the course.
In-Store Magic Show Secrets - Price: $299.
Special Sale Price Until Feb 14, 2009- $199. (save $100) - Purchase Now
Video Evaluation Option: Free with this course (for a limited time only)
Many of the courses include a Video Evaluation option. This invaluable tool is work more than the price of any of these courses. To participate, the student sends a video of his (or her) act, or a portion of the act (up to 6 minutes). Steve views it and tapes a personal, comprehensive commentary which offers coaching advice for enhancing your presentation.