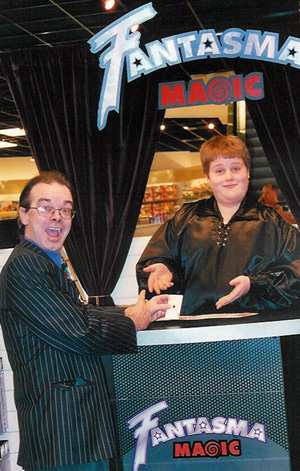 Simon Lovell demonstrates his famous coins and cards effect as taught in
Steve's coin magic workshop.
THE STEVE DACRI COIN MAGIC WORKSHOP
DETAILED COURSE DESCRIPTION
Next Class begins: Start Anytime. Classes are ongoing at your own pace.
Skill Level: For all skill levels, some of these secrets have never before appeared in print, handed down from some of magic's legends, like Dai Vernon and Tony Slydini.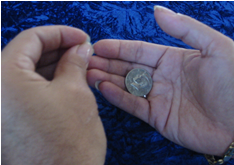 Call or email to enroll.
FOR ENROLLMENT INFORMATION, CLICK HERE, OR CALL (702) 253-9392
Description: Tricks with coins and money, which can be classified as pocket tricks, as they usually require nothing more than a pocket full of coins and such.
Steve teaches a review of coin moves, passes, vanishes, palms, appearances and basic plots of coin magic. You will learn secrets of real coin workers, guys that actually perform magic for a living, and learn two of the most popular and captivating routines in the world of coin magic.
ADVANCED COIN SECRETS AND ROUTINES
Not just for beginners, this course contains some absolutely killer routines designed for those who have had experience performing magic with coins, and although they can be mastered by anyone with practice, the pro's and seroius students of sleight of hand will enjoy this course. SOme of the material has never befor appeared in print.
Most repesent routines and ideas that were given to me personally, often from Dai Vernon himself, and Tony Slydini, both of whom were my teachers. Throughout the course, I provide you with the history and background of the tricks.
ALL METICULOUSLY PHOTO ILLUSTRATED
Steve teaches routines that are highly effective for almost any situation.
Learning is a snap, with the professional, close-up photos and descriptions.
MagicMovie Clips of Steve performing many of the moves for further clarity.
The focus is on fun, easy to learn tricks with money.
If you wish to perform magic for your friends, during a dinner, at a party for family members, on a date, whatever, this course is for you.
And if you are already performing magic for a living, I guarantee you will learn something new that will enhance your perormances.
CLASS FORMAT: 4 Lessons are sent via email (and also available online) during a 5 week period.
Special Offer: At the conclusion, students are invited to send in a video tape for a free evaluation and personal coaching session with Steve (a $100 value). Steve watches and critiques your performance, then tapes a personal coaching session for you, and returns the tape to you.
Price includes a free 6 month email consultation plan (a $100 value alone) which allows unlimited email consultation (on the business and performance aspects of these venues) with Steve after completing the course.
Coin Magic - Price: $299.
Special Sale Price Until April 1, 2011 - $199. (save $100) - Purchase Now
Video Evaluation Option: Free with this course (for a limited time only)
Many of the courses include a Video Evaluation option. This invaluable tool is work more than the price of any of these courses. To participate, the student sends a video of his (or her) act, or a portion of the act (up to 6 minutes). Steve views it and tapes a personal, comprehensive commentary which offers coaching advice for enhancing your presentation.