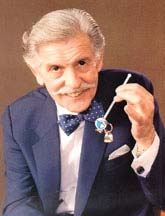 Billy McComb no longer performing on earth
LAS VEGAS, NEVADA - Simon Lovell, my brother, called about 5:30 PM(Vegas Time), and when I heard his voice, I knew. We both knew it was about to happen. Less than hour ago, he said. Peaceful, in the hospital, surrounded by love and playing cards.
We could not avoid it. It was just so hard to imagine it actually taking place.
At Right: Michael Bailey, Past President of The Magic Circle and Secretary Chris Pratt mingle with fellow member and MIMC Billy at a recent magic gathering in Las Vegas.(photo: Jan Dacri)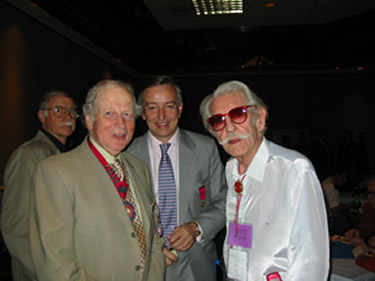 He was vibrant and energetic for almost every single minute of his 84 years. Actually, still appearing regularly at the Magic Castle, and even when he was not onstage, he was there, every single night. At the bar. In the library. Downstairs in a meeting. Planning new show ideas and events for the Castle. Attended every Board meeting. Committees. Gave freely of his time.
And once or twice a year, he'd hop a jet to Las Vegas and show the boys how it's done. On stage with the Amazing J (he asked Billy to permanently become his opening act, but Billy refused, said he was too busy to consider such a thing). Then with Lance Burton. Lance also begged him to join his show on a permanent basis, but Billy just smiled, puffed a giant cloud of smoke from his pipe and said, thanks, but no thanks.
He'd done it all, the London Palladium, Caesars Palace, Royal Command Performance for the Queen. All the famous Music Halls and Theatres in London and throughout the UK. Television, films, he was a master of it all. A one-of-a-kind showman.
Not long ago, Billy began to have some serious health issues, and soon, his body began the final round. The tour of Earth was about to end for Billy McComb. While in Boston, I monitored the situation, and began to consider the sad day that was approaching.
Yeah, I know. He had a great life. So many people wrote to me in the past 24 hours to share their grief (with the first wave of emails within a couple of hours from all over the world) Among them, I recall James Randi, Rob Cox, Roger Dreyer, Ruairi (I'm not always naked) O'Connor, Alan Watson, Tony Wilson, Walter (and Becky) Blaney, Matt Field, officers of the SAM and IBM, and of course Mandy Davis, who has known Billy since she was eight (well over 20 years, then, right Mandy?) and the common thread was along the lines of "he led a grand life", and boy he sure did. But it is still a shock when you begin to realize that he will no longer be around to cheer us up and teach us and make us laugh.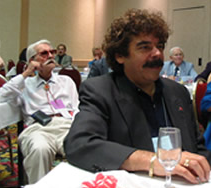 He left us April 30 (yesterday, as I write this now), and for those of us lucky folk to have been touched personally by Billy, there is a really big hole in our hearts that will take a long time to heal. I feel like a family member is gone. He was like a father to Simon, a deep relationship that went beyond words. Understandably, he is crushed.
Check out our Billy McComb page in the Hall of Fame for biographical details on Billy.
LOVEDWORLDWIDE
So many people loved Billy. He was easy to love. He was honest, sometimes painfully so, and he was caring and always offering ideas to the performers who passed through the Castle. I sat for hours debating magic and sharing show business stories, whenever I performed or visited the Castle. I watched him coach young performers as well the pros. everyone listedned whern he offered his advice. He always had that little something that would improve an act or routine. His vast experience was amazing.
He would always, as Jan pointed out to me, light up when he saw me. It was flattering and certainly uncalled for. He would share with me the latest gossip, and usually a new move or prop he'd been playing with, and soon we were looking for a secluded corner of a room or bar to work on stuff. There would always be copious amounts of adult beverages shared...he was, after all, a true Irishman, and I was just being sociable. Many a night I sat with him at a table, or a bar, or in an empty showroom, or the museum, or library...he loved to roam throughout the place, and would sit and tell a story or perform a trick whenever it suited him.
He was wise and highly intuitive and creative. Last of a dying breed, someone who did it all, and was still doing it. Reminds me of Bev Bergeron, another genius of our industry who shines onstage and creatively behind the scenes. When I'm with Bev, it's the same thing, we discuss the state of the world, the gossip, the good, the bad, the thieves, and the good ones. Then we are soon playing with performance ideas and tricks, the stuff that makes life real. And drinking the required allotment of hootchy juice to keep it all fun, and make it impossible to remember what the heck we discussed the next day.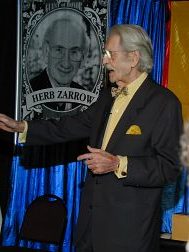 Come to think of it, both Billy and Bev also shared the dinstiction of being - shall we say, "taken advantage of" by many people with short memories. Both these guys invented many routines and concepts which were later stolen or "used without permission" by unscrupulous performers who took advantage of these guy's generous nature and creativity.
Dai Vernon first introduced me to Billy. I remember the night. We sat at the bar, Vernon puffing huge clouds of smoke from his cigar, Billy puffing thick pipe smoke like a furnace, and all of us sipping from a bottle of Johnny Walker Black, trading card tricks and jokes. When the Castle closed, we piled into my car, joined by Joe Cossari and Kuda Bux, and drove to Canter's, a famous all-night deli not far away, and proceeded to eat cake and ice cream.
Billy got up and went over to a table full of girls and wowed them with card tricks while we all cracked jokes and attempted to disrupt him. We couldn't. It was impossible to throw Billy a curve ball. He always had a comeback. He was as sharp as they get. His mind never stops. A great practical joker, too.
I was about 16 when I first witnessed a live Billy McComb performance. It was a Boston Magicrama, a reqional convention, and it was my first magic convention. I don't remember any of the other acts. I just remember the MC. Billy. I was transfixed by his command of the room, and the seemingly simple performance pieces. His humor. His timing. Wow. It affected me deeply, on so many levels. Watching Billy work a crowd is like a Master Class in audience management.
He could deliver a practiced line or ad-lib with ease, and had that special ability to make every moment of his performance seem as if it was happening for the very first time.
Little did I know that years later, I would be fortunate enough to not only meet him, but develop a friendship that I'm really not ready to let go.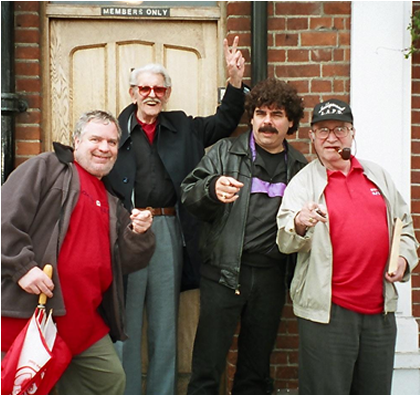 That friendship eventually led me to meet Billy's illegitimate half-brother, Terrence Seabrooke, and there were times when the three of us were together that I thought I would never surive.
At Left: in front of the private club in Bushy, England, The Magic Circle is effectively represented as members Rob Cox, Billy, Steve and Sir Seabrooke after they were ejected from the Bushy Men's Club following a full day of drinking, magic, snooker and more drinking. (photo: Mandy Davis)
Seabrooke is a wild man. McComb is (or was) the king of the wild men. Together, it was a tornado of frenetic, uncontrollable energy that spurts in all directions, often with hilarious results, sometimes resulting in jail time. When I had the great fortune to be a part of this special team, it was always one for the history books.
For example, we once emptied the aforementioned Bushy Men's Social Club in Central England as part of an elaborate drunken card trick that climaxed in the street in front of the pub, with Seabrooke in his underwear and Billy vanishing a bird cage while I levitated several feet into the air while standing next to a policeman.
Funny, but right up until only a few months ago, Billy was talking about a show he wanted to bring to Vegas, a new version of the one man show, and I just know it would have been a hit.
However, there will never be another Billy McComb performance in Las Vegas, as he has now accepted a long term enagement that will keep him busy in the main room in Heaven.
If you would like to share a Billy story, email me right away. Meanwhile, pour a tall one and raise a glass or three to one of the greatest entertainers that ever lived.
Here's to Billy McComb, formerly " The World's Oldest Leprechaun", the latest addition to the all-star line-up that includes Channing, Harry, Jay, Dai, and the rest of the boys.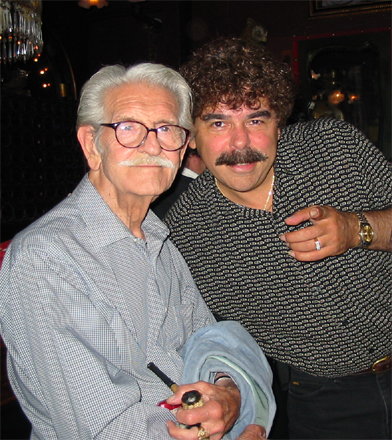 Farewell, my friend. We will never forget you.
.

PRAISECONTINUESFORAMAZINGBALLANTINETRIBUTEDVD
Thanks for the fantastic response. As I mentioned last time, we are getting feedback from as far away as New Zealand, France, Spain and Fiji. Thanks for the kind words, and thanks to all of you who purchased this special DVD already. It belongs in the library. You will watch it over and over again.
Everyone in show business (not just in magic) should want to own this program. It looks great, and has lots of Ballantine moments from the past and from his recent appearances at the IBM conventions in San Diego and Reno. More details...
DENNISREGLINGLATESTCOLUMN


Developing new leads can be the most time consuming and expensive part of growing your business as an entertainer. Join Dennis as he dispenses more practical advice...read more.
Check out his latest here..
CONVENTIONLISTINGSUPDATED
Check our newly revised INTERACTIVE listings of every magic event and convention here. See an event you want to learn more about? A simple click and you are taken directly to the source.
Magically yours,
Steve