XanGo CMO Calls on Mangosteen Beverage Makers to Give Consumers the Facts on Whole Fruit Claims
2006-07-18 - XanGo, LLC click here for this article
---

from:

Breaking News on Supplements & Nutrition - North America


Use whole fruit claim only where true, urges mangosteen company

7/17/2006- XanGo, the maker of a xanthone-rich dietary supplement from mangosteen, is seeking to build awareness of the 'superfruit' and is advocating the use of whole fruit claims only where they are truly merited.
Mangosteen, dubbed the 'Queen of Fruits', is the fruit of a tropical evergreen tree found in southeast Asia. Its healthy reputation stems from the 40-odd xanthones - polyphenolic compounds that have been researched for their role in immune, joint and intestinal health - which are concentrated in the rind or pericarp, as well as flavonoids.

On account of its healthy profile, mangosteen has become renowned as a 'superfruit' - along with others such as pomegranate, noni, and many berries, all of which are tipped or growth this year as food formulators vie to deliver products that meet consumers' healthy demands.
XanGo claims the credit for building the use of mangosteen in the supplements market, but it is becoming an increasingly competitive sector, with comparisons being made between its nutritional profile an that of competitors such as Pure Fruit Technologies' MangoXan and Thai-Go.
As the category grows, XanGo believes that its reputation as a whole may be at stake if companies claim their products contain the whole fruit when in fact they are derived only from the pulp.
Chief marketing officer Gordon Morton told NutraIngredients-USA.com that misleading whole fruit claims are "a significant concern", and "many products" that claim whole fruit actually use powders or extracts - although did not provide figures to illustrate the depth of the problem.
He said that it is not so much a matter of seeking legal or regulatory recourse in the event of misleading claims, but "this is more about leadership and accountability."
"Whole fruit should mean usage of the complete mangosteen, pulp and rind, as nature intended. This is a consistent whole fruit definition we should all honor."
Whilst in theory he would have no issues with powders for use in supplements that replicate precisely the natural nutrient ratio of the whole fruit ("it really depends on how the power or extract is developed and implemented"), Morton said that, even so, such powders should not carry the whole fruit claim.
According to Morton, XanGo Juice is experiencing "tremendous growth in the US and internationally" - especially in Japan, the UK, Mexico and Australia.
"XanGo's objective is a billion-dollar threshold within 3-4 years," said Morton.
Datamonitor's ProductScan Online identified mangosteen as one of several antioxidant-rich fruits that, together, make up one of its top ten trends to watch in 2006. Director Tom Vierhile told NutraIngredients-USA.com that three food and beverage products were identified by the market researcher in 2005, compared to two in 2004 and one in 2003.

XanGo CMO Calls on Mangosteen Beverage Makers to Give Consumers the Facts on Whole Fruit Claims
2006-07-18 - XanGo, LLC
--------------------------------------------------------------------------------
Statement by Gordon Morton, Chief Marketing Officer, XanGo, LLC
July 12, 2006

As creator of the mangosteen dietary supplement category, XanGo is thrilled with consumer response to our xanthone-rich dietary supplement, XanGo® Juice. Global consumer enthusiasm demonstrates vast interest in the mangosteen and its nutritious properties.
XanGo advocates consumer education for sustained mangosteen category growth. We encourage all category participants to heed the findings and guidelines of credible scientific sources.
XanGo is especially concerned with marketing claims from mangosteen product-makers pointing to usage of "the whole fruit."
Many products within our category use powders, extracts or select parts from the mangosteen and claim to deliver "the whole fruit." This claim can be misleading to consumers in pursuit of mangosteen nutrients and benefits.
Originating in Southeast Asia, the mangosteen is nature's most concentrated source of xanthones. Credible research demonstrates the role of xanthones in a stronger immune system, joint flexibility and intestinal health. Research shows the mangosteen's xanthones are centralized in the rind or pericarp, the outer skin of the fruit.
In addition to xanthones, the mangosteen is rich in flavonoids, antioxidant plant compounds known for their ability to repair damage and provide a shield from environmental toxins.
Our proprietary formula for XanGo Juice begins with a puree of the whole mangosteen fruit from the best farms. XanGo sources and purees the whole fresh mangosteen - pulp and rind - so you can receive the benefits the way nature intended. XanGo Juice delivers the full benefit of some 40 xanthones as well as the advantage of powerful flavonoids through true usage of the whole fruit.
Some mangosteen products use only the pulp, the inner part of the fruit. The use of the pulp and exclusion of the rind where most of the xanthones reside is not the "whole fruit."
The use of extracts of the mangosteen, pulp or pericarp, can lead to a reduction of the fruit's xanthone and flavonoid values. By definition, extract clearly does not mean "whole fruit." Those who want to market this amazing fruit should recognize nature's perfection. We can't make the mangosteen better by taking it apart.
Manufacturers who aim to be part of this exciting category have a right to make their mangosteen products their way. And consumers in pursuit of the mangosteen's health benefits have a right to know the truth.
If you say "whole fruit," you should mean it.
For more information, contact:
Bob Freeze, B[email protected] Alexandra Bowman, [email protected]
(801) 766-3060 office, (801) 330-6407 cell (801) 766-2820 office, (801) 380-6023 cell
About XanGo
XanGo, LLC is a recognized category creator as the first company to market a premium mangosteen beverage, XanGo® Juice, to consumers worldwide. A delicious daily dietary supplement, XanGo Juice harnesses the nutritional attributes of the whole mangosteen fruit through a proprietary formula. Based in Utah, XanGo is privately-owned and powered by a global network of independent distributors. XanGo's expansive operations include the United States and numerous international markets such as Japan, Australia, New Zealand, Mexico and Canada. For more information on XanGo and XanGo Juice, visit www.xango.net.
Copyright XanGo, LLC. All rights reserved.
# # #

Become a DIstributor Now. Here's How.
TRY A BOTTLE FOR YOURSELF NOW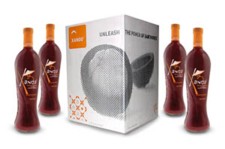 Note: price for a single bottle includes a $10 shipping surcharge. It costs $17 to ship a single bottle safely, so we must add this surcharge to cover that cost. It is much better to order wholesale, and we urge you to do that. but we are happy to accomodate requests for a single bottle of the juice.
Click Here Now to Order
or
\


Learn How to Order at Wholesale.
For wholesale and distributor details, call us today, or visit our special XanGo™ website here.