Why Drink XanGo™?
XanGo™: Good for the Body - Heaven for the Tongue


Made from the whole-fruit puree of the highly prized mangosteen fruit, XanGo's™ proprietary formulation captures the essence of this magical fruit universally known as "Queen of Fruits". Beware of inferior products, as only XanGo™ creates its juice from the whole fruit, whereas others only use the pulp or a powder or extract of mangosteen.
The Amazing Discovery behind XanGo Click Here Now to visit our website and watch the video....



Nothing compares to this

There are so many reasons people are falling in love with XanGo™ all over the world:

| | |
| --- | --- |
| | Tastes Indescribably Delicious |
| | Vital antioxidant support |
| | Hundreds of years of folklore, proven by modern science |
| | All-natural source of over 40 highly potent "Xanthones" |
| | 130 Biologically Active Components |

Unknown to the Western World... Until Now!
Learn More...
A new laboratory test known as ORAC (Oxygen Radical Absorbance Capacity) has shown that an ounce of mangosteen juice has 20-30 times the ability to absorb free radicals than one ounce of most fruits and vegetables.
The ORAC test is one of the most accurate ways to measure the ability of antioxidants in a certain substance to absorb free radicals. Our competitors would have you think that they have products that have higher ORAC scores, but they have artificially manipulated the numbers by adding other supplements to the mix.

Nothing compares to XanGo, according to medical professionals and research.
THE POWER OF XANTHONES - click here
Become a DIstributor Now. Here's How.
TRY A BOTTLE FOR YOURSELF NOW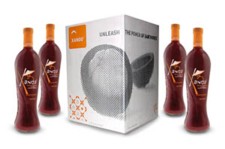 Note: price for a single bottle includes a $10 shipping surcharge. It costs $17 to ship a single bottle safely, so we must add this surcharge to cover that cost. It is much better to order wholesale, and we urge you to do that. but we are happy to accomodate requests for a single bottle of the juice.
Click Here Now to Order
or
\


Learn How to Order at Wholesale.